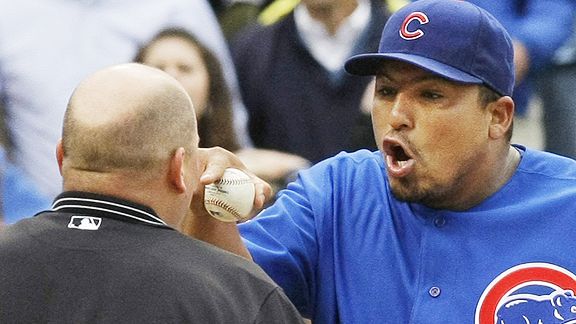 Every once in a while, a professional athlete or coach will do something so awesome that it lives (for a few years, at least) in infamy, earning hundreds of thousands of views on sites like YouTube. Ladies and gentlemen, Chicago Cubs pitcher
Carlos Zambrano
is here for your entertainment.
Zambrano threw a wild pitch and Pirates baserunner Nyjer Morgan took off from third base hoping to score. Chicago catcher Geovanny Soto desperately threw the ball to Zambrano, who was covering home plate. Zambrano appeared to tag Morgan out before he crossed home plate, but the umpire felt differently, calling him safe.
That didn't sit well with Zambrano, who confronted the umpire and yelled at home-plate umpire Mark Carlson, who ejected the Cubs' ace from the game. So Zambrano did the only thing that made sense.
He ejected Carlson
.
Though Carlson didn't actually leave the field, it was an awesome site to behold. Chicago teammate Milton Bradley, known for his off-the-field antics, said that the scene was "Pretty impressive. That was on a Bradley level."
Zambrano swung a bat at the team's Gatorade cooler before ultimately heading toward the locker room. After the game, Zambrano spoke to the media about what exactly was said during the altercation.
"I didn't say any bad words. Like I said, it's his call to call safe or out or to throw me out. There's nothing I can do after the call," Zambrano said.